{tab Overview}
Actuator Electrak 1 (LA1)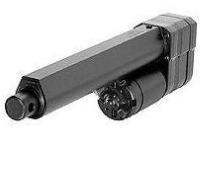 The Electrak 1 (LA1) actuator is completely self-contained and sealed for indoor and outdoor use. Functionally, these models are easily interchanged with comparably sized hydraulic or pneumatic cylinders. Used on intermittent duty applications Electrak 1 actuators provide consistent, repeatable performance in the most rigorous operating conditions including extreme temperatures and humidities.
Performance Specifications
Input Voltages – 12, 24, 36 VDC;
Stroke Length – 20-150 mm;
Dynamic Load – up to 340 N;
Static Load – up to 1300 N;
Speed – up to 75 mm/s;
Full load duty cycle @ 25 ºC – 25%;
IP65;
Operating temperature - -25 - +65 0C;
Auto reset thermal switch motor protection;
Aluminum/zinc corrosion resistant housing;
Maintenance free.
{tab Specifications}
Performance Specifications

Electrak 1

Electrak 1SP

Input Voltage (VDC)

12, 24, 36

Max Stroke: mm

150

Max Dynamic Load: N

340

Max Static Load: N

1300

Max No-Load Speed: mm/s

75
Max Full-Load Speed: mm/s

52

Full load duty cycle @ 25 ºC

25%

Screw Type

Acme

Operating temperature: ºC:

-25 iki +65 oC


End of Stroke Protection

Limit Switches
No

Potentiometer feedback

No
10 kΩ

Protection Class

IP65
{tab Applications}
{/tabs}