{tab Overview}
Actuator Electrak 5 (LA5)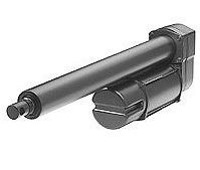 The Electrak 5 (LA5) actuator is designed for intermittent duty applications. Consisting of a highly efficient ball bearing screw drive system coupled through a gear train to an AC motor, these actuators feature robust, strong, and reliable quality construction with a stainless steel extension tube and slip clutch to protect the maintenance free unit from overload.
Performance Specifications
Input Voltages - 1 x 230 VAC, 3 x 400 VAC;
Stroke Length – 100-600 mm;
Dynamic Load – up to 6800 N;
Static Load – up to 18000 N;
Speed – up to 60 mm/s;
Full load duty cycle @ 25ºC – 25%;
Operating temperature – -25 - +65 0C;
IP45;
Heavy duty motor with thermal switch;
Acme Screw or Ball Screw;
Maintenance free;
Options – Acme screw anti coast brake, potentiometer, manual override, limit switches.
{tab Specification}
Performance Specifications

Acme Screw

Ball Screw


Input Voltage (VAC)

230 (1F); 400 (3F)

Max Stroke Length: mm

610

Max Dynamic Load: N

2250
6800
11350
18000

Max No-Load Speed: mm/s

48
61

Max Full-Load Speed: mm/s

38
37
Full load duty cycle @ 25ºCoC

25% (maksimaliai 45 s)
Operating temperature: oC
-25 iki +65
Protection Class
IP65
{/tabs}